At the bottom of Global Navigation, click the Help link.
The Ask Your Instructor a Question link allows you to contact an instructor or TA in any of your active courses directly from the help page.
Ask Your Instructor a Question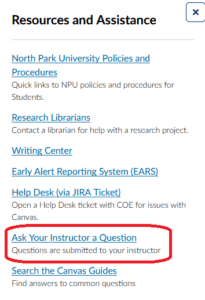 Image Modified
In the course drop-down menu [1], select the course that relates to your question. In the Message field [2], enter the message for your instructor(s).
Send Message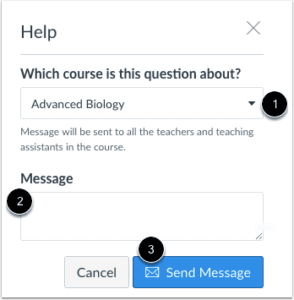 Image Modified
When you're done, click the Send Message button [3]. Replies will be sent to your Conversations inbox. If your course includes more than one instructor or TA, your message will be sent as a group message to all instructors/TAs in the course.
COE Support Services
Contact
Helpdesk: https://jira.northpark.edu/
Email: COE@northpark.edu
Phone: 773-244-6204
Website: https://www.northpark.edu/academics/online-education/
Canvas Tutorials (Written and Video)
Working Remotely
Most North Park Employees are working remotely due to the Covid-19 pandemic. COE Staff are available via the contact methods above, by direct appointment, and using the other Remote Work tools used by campus.
Location
Sohlberg Hall, Lower Level

...